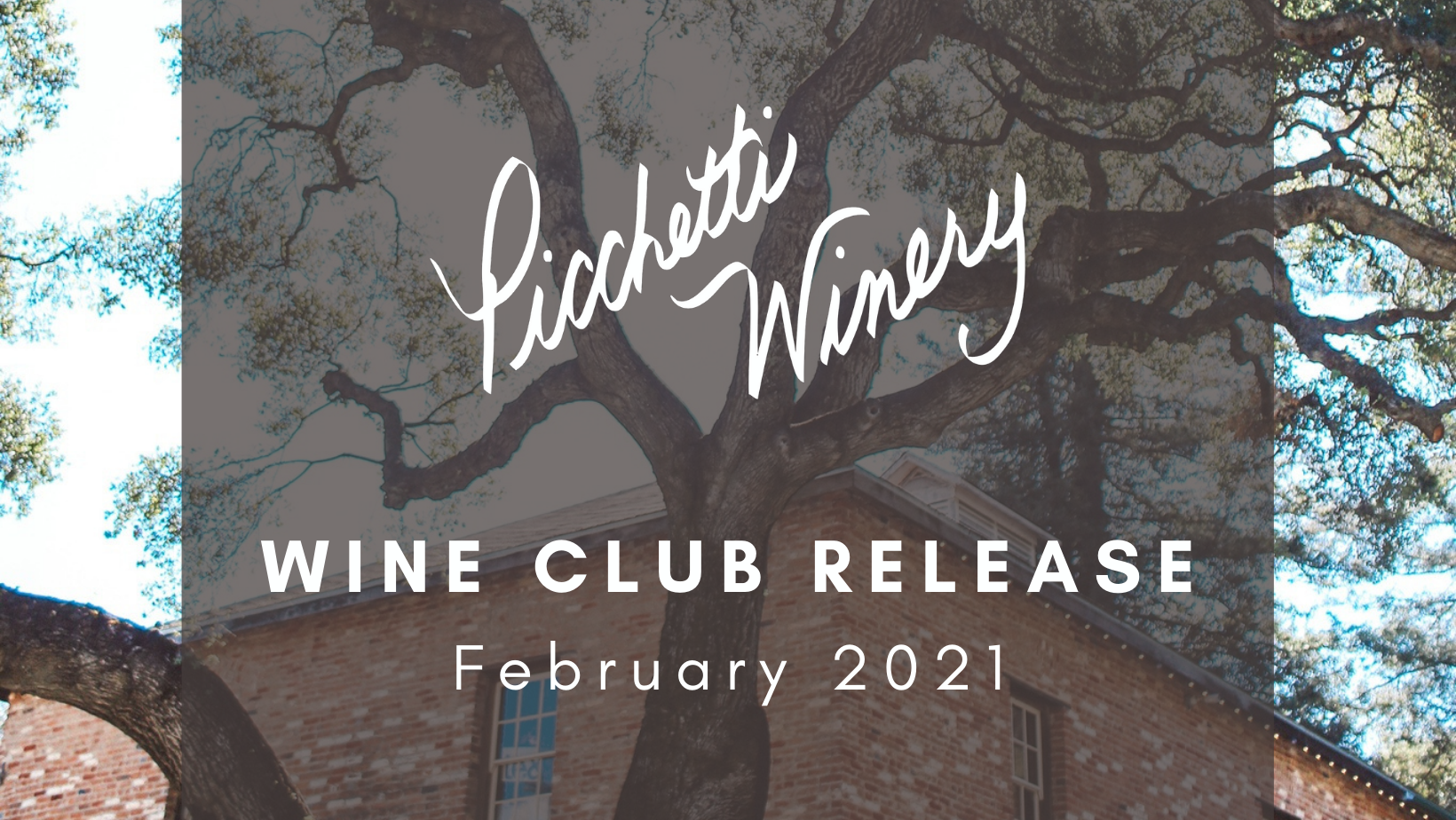 The February Wine Club Release is now available for pickup. The Picchetti Winery is open daily from 11.00am - 4.00pm for wine club pickups, will-call orders, and to-go wine purchases. The picnic grounds, wine tasting, and event packages remain closed for the time being.

If you prefer to have your wine shipped, please call (408) 741-1310 or email info@picchetti.com and our staff will be happy to assist you. We are still offering $5.00 shipping rates for all case purchases, and 40% off when bundling your wine club release with an additional 10-bottles.

We sincerely thank you for all your continued support!
2018 Tempranillo




Estrella District, Paso Robles



GOLD MEDAL
2020 SF International Wine Competition



Tempranillo (pronounced tem-pra-NEE-yo) is the basis for the world-renowned Rioja wines of Central Spain. The Hamond Vineyard, enjoys similar climatic conditions to those found in the Iberian Mountains of La Rioja - cooler temperatures to maintain acidity, but warm enough to develop the sugars required for full flavor development. This vintage was aged for 18-months in French oak (46% new barrels), permitting its unique characteristics to shine through. Have fun pairing it with Santa Maria tri tip, Manchego cheese or a variety of Spanish tapas.

2017 Vino Di Vicino


Wine of the Neighborhood



GOLD MEDAL


2020 SF International Wine Competition



Vino di Vicino translates from Italian to Wine of the Neighborhood in English, and this appropriately named release is a classic blend of all five Bordeaux varietals from local vineyards. It is made up of 68% Cabernet Sauvignon, 16% Merlot, 9% Malbec and 8% Petit Verdot. Smooth tannins, white pepper, nutmeg, ripe plum, inviting, cured meat, fatty game meats, fennel, coco powder, cardamom, exotic spices, caraway seeds. Great pairing with classic Bordeaux Cuisine such as steak frites with bordelaise sauce.This vintage has been aging in the bottle for over 12 months and is ready to be enjoyed now.



_______________________________________


OUR SPECIAL GIFT TO YOU

Champagne Stopper

The Champagne Stopper can be used to preserve any bottle of sparking or still wine. The innovative leak-proof, airtight design will keep your bubbly vibrant for up to three days and is easy to use with just one hand.

_______________________________________


Be sure to take advantage of our ongoing specials in person or at our
online store


Bundle your club wines with an additional 10-bottles at the 40% case discount
Please email info@picchetti.com or call (408) 741-1310 and our staff will be happy to assist you

Library Wine

Limited Availability
Mattie Rosé
$19.95
Previously: $29.95
Sparkling Rosé
$24.95
Previously: $36.95
Brut Zinfandel
$32.95
Previously: $44.95
Mission Angelica
$24.95
Previously: $36.95
Cinsault
$29.95
Previously: $42.95